ATLAS F MISSILE SITES
BETTER DIAGRAM COMING SOON
SILO CAP AREA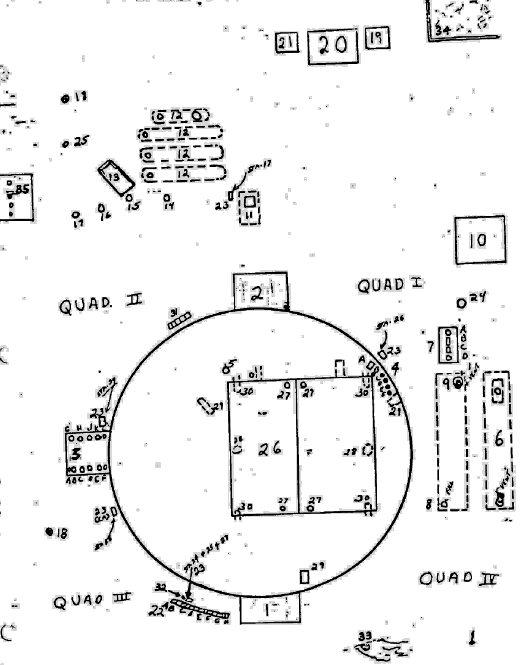 1. SILO AIR INTAKE: GOES TO AIR WASH DUST COLLECTORS ON QUAD LEVEL 1 OF THE CRIB.
2. SILO AIR EXHAUST: EXITS FROM THE SILO WALL AT LEVEL 2, QUAD 2.
3. FILL AND VENT SHAFT:
A. GN2 AND GOX VENT (OVP): TO PRESSURIZATION PRE-FAB TO VENT LOX STORAGE TANK THROUGH N-5 AND TOPPING TANK THROUGH N-4.
B. HELIUM FILL: TO MISSILE LOX TANK FROM PNEUMATIC CHECK-OUT VEHICLE.
C. HELIUM FILL (HFP): TO RP-1 TANK FROM PCV
D. LN2 FILL (NLS): THROUGH LN2 PRE-FAB TO LN2 STORAGE TANK AND LN2 HEAT EXCHANGER.
E. HELIUM VENT: (HCX-1) MISSILE LOX TANK PRESSURE EXHAUST THROUGH PCV VALVE 112.
F. GN2 VENT (NEX) LN2 VENT FROM LN2 HEAT EXCHANGER AND STORAGE TANK THROUGH LN2 PRE-FAB.
G. LOX FILL: (OFP) STUB UP L20 THROUGH LOX FILL PRE-FAB VALVES LEVEL 7 THROUGH LEVEL 6 TO LOX STORAGE AND TOPPING TANKS.
H. HELIUM FILL (HFD): 6,000 PSI HELIUM THROUGH PDU TO BOTH INFLIGHT HELIUM BOTTLES. MANUAL VALVE 23 FOR IF #1. MANUAL VALVE 24 FOR IF #2.
J. GN2 FILL (NPP): 4,000 PSI HELIUM GN2 FILL TO SINGLE 500 CUBIC FOOT BOTTLE.
K. GN2 FILL (OAF): 4,000 PSI GN2 FILL TO 2 EACH 625 CUBIC FOOT BOTTLE.
L. GN2 FILL (NFD): TO 6,000 PSI GN2 BOTTLE (GND PRESSURIZATION AND ROUTINE USE) THROUGH VALVE 25 IN THE PDU.
4. A. MANUAL VALVE F-16: FROM MISSILE TO CATCHMENT TANK.
B. VALVE F-15: MISSILE FILL STUB UP. (RPI)
C. DIRTY LUBE OIL DRAIN LINE: FROM TANK ON LEVEL 5 AND PUMP ON LEVEL 6.
D. CLEAN LUBE OIL FILL LINE: TO TANK ON LEVEL 5.
E. HELIUM VENT: MISSILE FUEL TANK PRESSURE EXHAUST THROUGH PCV VALVE.
F. GN2 VENT: VENT FROM FUEL LOADING PRE-FAB (FUEL LEVELING TANK) LOCATED ON LEVEL 8. (NVP)
5. DEMINERALIZED WATER FILL: TO DEMINERALIZED WATER TANK ON LEVEL 1 (MAY NOT BE USED).
6. CATCHMENT TANK: ACCESS AND VENT (15,000 GALLON CAPACITY)
7. A. F-17: RP-1 FILL STUB UP.
B. F-20: ONE WAY CHECK VALVE TO RP-1 CATCHMENT TANK.
C. F-18: RP-1 MANUAL SHUT OFF VALVE TO RP-1 CATCHMENT TANK.
D. F-19: CATCHMENT TANK FILL STUB UP.
8. DIESEL FUEL TANK FILL: TO DIESEL STORAGE TANK (15,300 GALLON CAPACITY).
9. DIESEL FUEL TANK VENT:
10. COOLING WATER TOWER: COOLS CONDENSER WATER TO MAINTAIN RETURN WATER TEMP AT 90 DEGREES F. RECEIVES 8GPM MAKE UP WATER FROM UTILITY WATER SYSTEM THROUGH A CHEMICAL POT FEEDER ON LEVEL 1. COOLS DIESELS, WATER CHILLER UNITS AND INSTRUMENT AIR PRE-FAB.
11. COLLIMATOR SIGHT TUBE OPENING: USED TO ORIENTATE THE COLLIMATOR TO TRUE NORTH.
12. UTILITY WATER TANKS AND VENTS: 4 EACH TANKS 6 1/2 FEET UNDER SURFACE. TOTAL CAPACITY 91,000 GALLONS. 1-16,000 GALLON, 3 EACH 25,000 GALLON. HIGH LEVEL ALARM 89,450 GALLONS, LOW LEVEL ALARM AT 79,300 GALLONS.
13. LAUNCH CONTROL CENTER ENTRANCE:
14. LCC SEWER VENT: BLAST CLOSURE CLOSES AUTOMATICALLY IN EVENT OF NUCLEAR BLAST FOR 20 SECONDS, THEN OPENS.
15. LCC AIR EXHAUST: 16" BLAST CLOSURE CLOSES AUTOMATICALLY IN EVENT OF NUCLEAR BLAST FOR 30 MINUTES, THEN OPENS.
16. LCC ESCAPE HATCH: SHAFT CONTAINS 4 TONS OF SAND WHICH EMPTIES INTO LEVEL 1 OF LCC WHEN TRAP DOOR IS OPENED.
17. LCC AIR INTAKE; 16" BLAST CLOSURE CLOSES AUTOMATICALLY IN EVENT OF NUCLEAR BLAST FOR 30 MINUTES, THEN OPENS.
18. BLAST DETECTION OPTICAL SENSORS (2 EACH ): CONVERTS THE LIGHT RADIATION OF A NUCLEAR BLAST TO AN ELECTRICAL PULSE WHICH IS SENT TO THE NUCLEAR BLAST DETECTION UNIT ON LEVEL 2 OF THE LCC. THE SAME MAST HAS AN OPTICAL TEST LIGHT WHICH SIMULATES THE LIGHT OF A NUCLEAR BLAST.
NOTE. USED IN CONJUNCTION WITH THE OPTICAL SENSORS ARE 3 EACH BURIED LOOP ANTENNAE TO DETECT GROUND SHOCK. EACH ANTENNAE CONSISTS OF A 2 FOOT DIAMETER LOOP, 10 FEET UNDERGROUND AND A MATCHED TEST ANTENNA.
19. RAW WATER STORAGE TANK: CONTAINS UNPROCESSED WATER.
20. WATER PLANT BUILDING CONTAINING:
A. #1 WELL AND PUMP.
B. #2 WELL AND PUMP (MAY BE IN SEPARATE PUMP HOUSE).
C. DEMINERALIZATION, FILTRATION AND SOFTENING EQUIPMENT.
21. PROCESSED (PRODUCT) WATER STORAGE TANK:
NOTE: LOCATION AND MAKEUP EQUIPMENT (19,20,21) VARIES FROM SITE TO SITE.
22. ELECTRICAL STUB-UPS: 480 VA. POWER FROM NEMCC
A. HELIUM COMPRESSOR ELECT CONNECTION. 75 KW
B. OXYGEN RECHARGER ELECTRICAL CONNECTION. 75KW
C. MAPCHE CHECK-OUT VEHICLE ELECTRICAL CONNECTION. MAPCHE CONTAINS ELECTRONIC EQUIPMENT FOR RAPID AUTOMATIC CHECKOUT OF THE VARIOUS MISSILE SYSTEMS.
D. GROUND CONNECTION.
E. DMU ELECTRICAL CONNECTION. NOW CALLED PTS (PNEUMATIC TEST SET). SET SUPPLIES PRESSURE TO THE MISSILE DURING INSTALLATION AND REMOVAL AND DURING MAPCHE CHECKOUT. 50KW
F. GN2/LN2 RECHARGER ELECTRICAL CONNECTION. 130KW
G. ENGINE SERVICE TRAILER STUBUP. 25KW
H. 110V AC 30 GENERAL PURPOSE OUTLET.
23. COMMUNICATION BOX (3) AREAS 3, 4, 11.
24. ELECTRICAL CONNECTION: FOR FUEL 9RP-1) PURIFICATION UNIT.
25. PERSONAL WARNING LIGHT AND HORNS: LOCATED ABOVE LCC ACTUATED FROM FRCP, LEVEL 2 OF LCC.
26. SILO DOORS: 2 EACH 150,000 LBS, 16' 8" X 2'6" THICK WITH A 14" OVERLAP. DESIGNED TO WITHSTAND OVER-PRESSURE OF 100 PSI. EACH DOOR OPENS 95 DEGREES IN 19 SECONDS. WEST DOOR OPENS 6 SECONDS AFTER START OF EAST DOOR. TOTAL DOOR OPENING TIME 25 SECONDS.
27. BREAKAWAY CYLINDERS: 2 EACH DOOR ASSISTS MAIN DOOR ACTUATORS. HAS 4" STROKE WITH 37,500 LBS LIFTING CAPACITY.
28. MAIN DOOR ACTUATORS: ONE FOR EACH DOOR. HAS SNUBBING ACTION FROM 90 TO 95 DEGREES OF UPWARD TRAVEL.
29. HORIZONTAL CRIB LOCKS: 3 EACH 120 DEGREES APART. (NW-NE-S)
30. UPLOCK STRIKERS: FOR LAUNCH PLATFORM, 4 EACH. USED TO LOCK THE LAUNCHER PLATFORM TO THE SILO CAP WHEN THE LAUNCHER PLATFORM IS IN THE RAISED POSITION.
31. COMMUNICATION BOXES "J"
32. P.A. ALERT BUTTON
33. SILO SUMP PUMP DISCHARGE ON TO GROUND THROUGH 6" PIPE. LOCATION MAY VARY.
34. CATCH BASIN: RECEIVES WASTE WATER DISCHARGE FROM WATER PROCESSING PLANT WHEN EQUIPMENT IS BACK-FLUSHED. LOCATION MAY VARY.
35. TILE FIELD: RECEIVES DISCHARGE FROM LCC SUMP PUMPS.
[ HOME ] [ UP ] [ SILO CAP ] [ ENTRY ] [ LAUNCH CONTROL ] [ COMMUNICATION ] [ PIPE CODE ] [ EVACUATION ]