ATLAS F MISSILE SITES
ENTRANCE TO THE LAUNCH CONTROL CENTER
THE ENTRANCEWAY TO THE LCC CONSISTS OF A STAIRWAY DOWN FROM GRADE LEVEL, ENTRAPMENT AREA, TWO BLAST DOORS, CONNECTING TUNNEL AND A STAIRWELL FOR THE LCC LEVELS AND TO THE MISSILE SILO CONNECTING TUNNEL.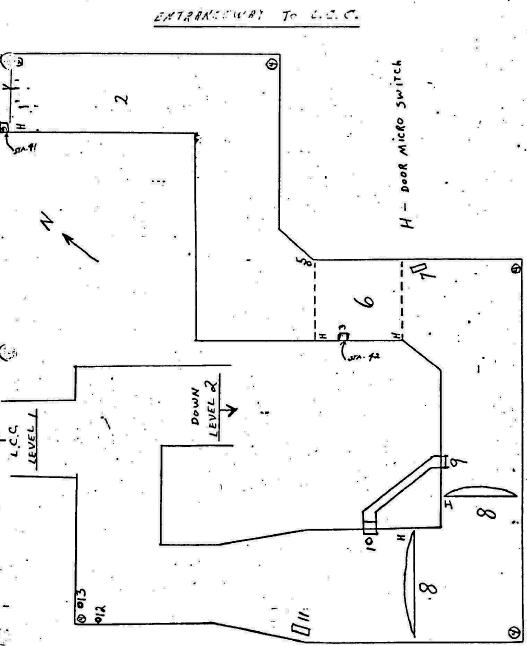 ENTRANCEWAY TO LCC:
1. GRADE ENTRY DOOR AND MICRO SWITCH.
2. STAIRWAY DOWN
3. TELEPHONE
4. BULL HORNS (5 EACH)
5. ENTRAPMENT AREA DOOR WARNING BUZZER
6. ENTRAPMENT AREA - TWO DOORS AND MICRO SWITCHES
7. T.V. MONITOR CAMERA
8. BLAST DOORS (2) AND MICRO SWITCHES
9. LCC STAIRWELL AIR EXHAUST VENT
10. LCC STAIRWELL BLAST CLOSURE 16"
11. EMERGENCY LIGHTING
12. SEWER DRAIN
13. SEWER VENT
[ HOME ] [ UP ] [ SILO CAP ] [ ENTRY ] [ LAUNCH CONTROL ] [ COMMUNICATION ] [ PIPE CODE ] [ EVACUATION ]