ATLAS F MISSILE SITES
LAUNCH CONTROL CENTER
INTRODUCTION: THE LAUNCH CONTROL CENTER (LCC) IS A CYLINDRICAL STRUCTURE 40 FEET IN DIAMETER, 6 1/2 FEET BELOW GRADE, AND CONTAINS A 2 STORY STEEL STRUCTURE CALLED A HUNG FLOOR. THIS HUNG FLOOR HANGS FROM THE CEILING OF THE CONCRETE STRUCTURE BY A SUSPENSION SYSTEM THAT IS AIR CUSHIONED TO ABSORB GROUND SHOCK.
THE UPPER FLOOR (LEVEL 1) OF THE LCC IS DIVIDED INTO VARIOUS ROOMS: READY ROOM AND STORAGE AREA, JANITOR ROOM, LATRINE AND SHOWER ROOM, KITCHEN AND DINING AREA, HEAT, VENT AND AIR CONDITIONING ROOM, AND MEDICAL SUPPLIES ROOM.
THE LOWER FLOOR (LEVEL 2) OF THE LCC IS ALSO DIVIDED INTO VARIOUS ROOMS IN WHICH THE ACTUAL LAUNCH EQUIPMENT IS LOCATED: LAUNCH CONTROL ROOM, OFFICE, BATTERY ROOM AND COMMUNICATION AND EQUIPMENT ROOM, THE TUNNEL TO THE MISSILE SILO CONNECTS LCC LEVEL 2 AND THE SILO LEVEL 2.
THE UTILITY TUNNEL WHICH CONNECTS THE LCC WITH THE SILO IS APPROXIMATELY 50 FEET LONG WITH AN INSIDE DIAMETER OF 8 FEET. TWO BLAST DOORS AND ONE FIRE AND DEBRIS DOOR LOCATED AT OPPOSITE ENDS OF THE UTILITY TUNNEL. TWO BLAST PLATES ARE PERMANENTLY BOLTED TO THE CONCRETE WALLS (ONE ON THE INSIDE WALL OF THE SILO AND THE OTHER IN THE TUNNEL) AND HAVE NUMEROUS 2 1/2 INCH HOLES USED FOR ROUTING CABLES BETWEEN THE LCC AND MISSILE SILO.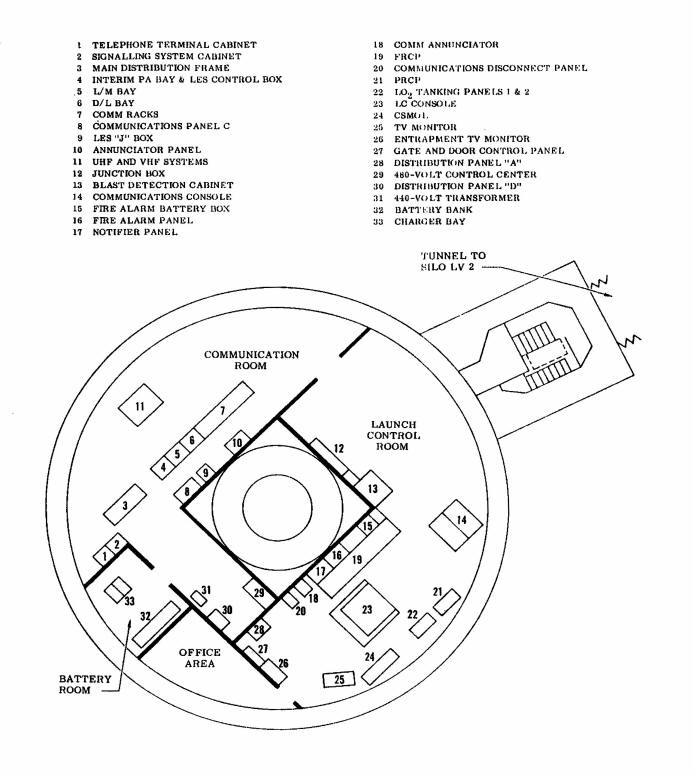 [ HOME ] [ UP ] [ SILO CAP ] [ ENTRY ] [ LAUNCH CONTROL ] [ COMMUNICATION ] [ PIPE CODE ] [ EVACUATION ]