THE AIRBORNE LAUNCH CONTROL SYSTEM

IN THIS SECTION I HOPE TO INCLUDE A HISTORY AND
OPERATIONAL PHOTOS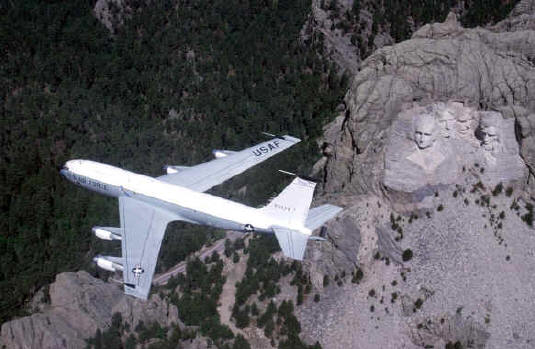 KC-135 ATTACHED TO THE 4th ACCS ELLSWORTH AFB
THANKS TO MATT SEKELLA FOR PROVIDING THIS PHOTOGRAPH
THE AIRBORNE LAUNCH CONTROL SYSTEM (ALCS)

For the first four years in the life of Minuteman it made no sense for an
enemy to try to prevent the launch of the fifty missiles in each squadron by
attempting to destroy the five manned Launch Control Centers (LCCs) that
controlled those missiles. Soviet missiles were too inaccurate, the
Minuteman LCCs were too hard, and the Minuteman control system had been
designed so that just one of the five LCCs could launch all fifty missiles.
If the bad guys wanted to prevent retaliation, they would have to try to
destroy all 1,000 Minuteman missiles, one at a time.

By the late 60s, the accuracy of ICBMs on both sides had improved
tremendously. U.S. war planners worried that it might be possible for the
enemy to stop an entire squadron of fifty missiles by destroying just the
five LCCs. The requirement for a back-up method of launching the
underground Minuteman missiles became apparent. The requirement for the
ALCS had arrived.

The ALCS was operational from the late 60s until the early 90s. (Reports
say it could be reactivated on short notice today.) ALCS consisted of five
alert EC-135 aircraft. (Two squadrons of these former KC-135 aircraft were
used to ensure that five were always on alert.) One of the five, LOOKING
GLASS, was constantly airborne out of Offutt AFB, NE. The other four were
parked at the end of the runway at Ellsworth, SD and Minot, ND; ready to
takeoff with less than ten minutes warning.

When warned, the four alert ALCS aircraft took off and flew to orbits near
the Minuteman bases they were responsible for assisting. If the "Go Code"
had ever been received, the two ALCS missile crew members on each aircraft
would have begun polling the underground LCCs to see if they were still
there. If the underground crews did not respond, the ALCS crew could launch
all Minuteman missiles by transmitting commands via UHF radio directly to
each missile.

LT. COL. WILLIAM B. HUEY USAF (RET)
MANY THANKS TO BILL HUEY FOR HIS INVALUABLE TIME AND ADVICE
[ HOME ] [ UP ] [ A.L.C.S. DIAGRAMS ] [ A.L.C.S. STORIES ]