577th STRATEGIC MISSILE SQUADRON
ATLAS F
ALTUS, OKLAHOMA
FREDRICK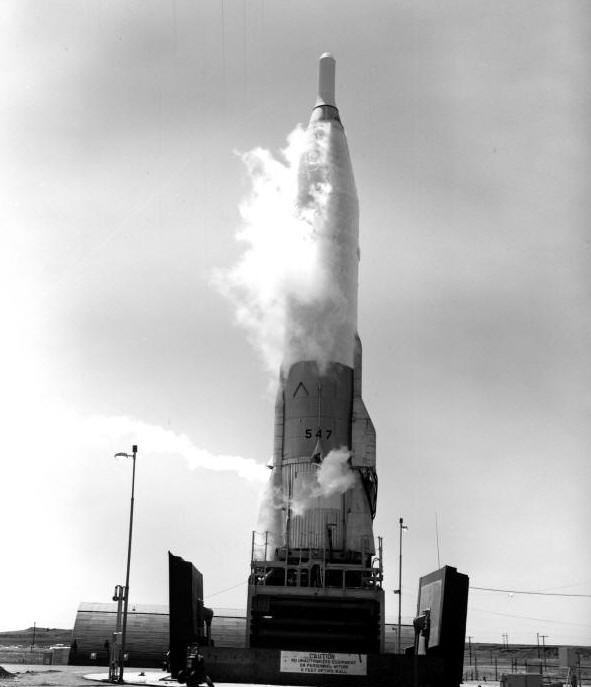 MISSILE INSTALL 1962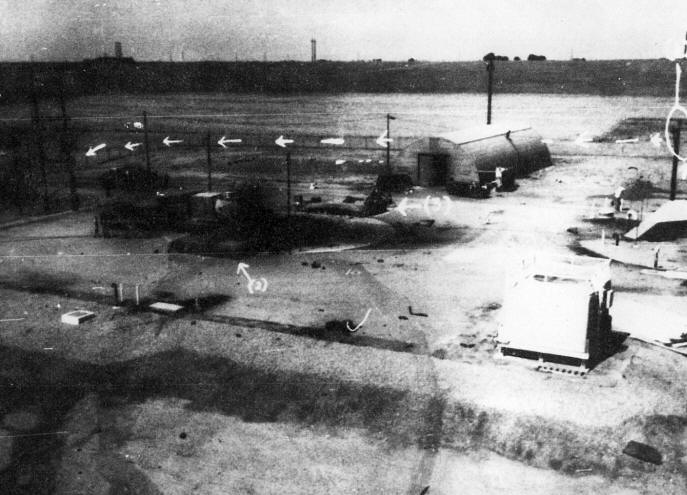 MISSILE & SILO DESTROYED MAY 14, 1964
NOTE: SILO DOORS HAVE BEEN BLOWN OFF
THESE AUDIO TAPES WERE TAKEN DURING THE USAF ACCEPTANCE OF SITE 577-6 FREDRICK AFTER THE RED HEAT UPDATE
MAY 14, 1964
PLEASE CLICK ON THE PORTION YOU WISH TO HEAR...
Start Countdown - 3.9MB
Missile Pod High Temp - 1MB
Fire Declared - 6MB
Abort Going Normal - 10.3 MB
SAC 2AF Norton OnLine - 3.3 MB
Team Returns From Silo - 3.4MB
Silo Doors Open - 1.1MB
Fire On 4 Levels - 2.2MB
Missile Pressure Lost - 4.5MB
Missile Blows Up - 6MB
A LETTER FROM THE MISSILE COMBAT CREW COMMANDER...
TO WHOM IT MAY CONCERN:
This reel to reel tape was made at the 577th standboard room at Altus AFB. I suppose that this was standard procedure during a wet countdown.
The person who is narrating the countdown is Maj. Ray A McAllister, the sector commander. The wet countdown was to serve as an acceptance of the silo from the General Dynamics company who were upgrading the missile system under operation Red Heat. Our crew was scheduled for duty that day, May 14, 1964.
The Crew Was:
MCCC Maj. Casimir J. Harazda, AO2084560
DMCCC 1 Lt. Keith N. Kuhlenschmidt, AO3107988
BMT MSgt. P‑2 William C. Smith, AF142991 45
MFT SSgt. Donald P. Huelle, AF19523242
EPPT A1 C George E. Ellis, AF37636589
As I remember there were two minor corrections I would like to make to the tape. When it appeared to me that the fire indication on the Missile Facilities Panel was not a false one I instructed the DMCCC to initiate the fire fog system, but the green light did not come on. Also later on I suggested that the missile silo doors should be opened. A GD engineer negated the idea. Later on the tape, someone on the conference net suggests that the fog system be initiated, where we informed Maj. McAllister that an attempt was made earlier and it did not activate. Later someone else on the net suggested that we open the missile silo doors to relieve the blast force. It was almost too late. After I activated the open door sequence and when both doors were just partially extended we lost both diesels and all power to the silo. Several minutes later the missile exploded and the resulting blast blew each door several feet away from their hinges.
The sudden silence at the end of the tape was because I ordered every one to the first level of the LCC where the escape hatch was. Fortunately, we did not have to use it and we all exited from the normal entry and exit way. I was the last one to leave the silo.
As a final remark I would like to add that during the LOX loading I never saw the frost line come up towards the top of the missile through observation of the remote camera in the MEA. I believe this was significant since a leak of some kind was suspected at the missile lox connection. I'm not sure that this was proven.
Casimir Harazd
MANY THANKS TO DAVID JOHNSON FOR SHARING THESE EXCELLENT AUDIO TAPES
• HOME • UP • SITE 4 • SITE 6 • DEACTIVATION •